Our research
Our research aims to develop innovative ecologically-based solutions to conservation problems and is focused across the four main areas below.
Behavioural ecology of
alien species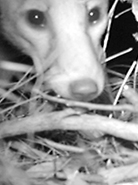 Terrestrial alien predators have proven to be the worst of all invasive species, they are a primary cause of biodiversity and agricultural loss and few ecosystems have escaped their impact. Our research aims to (i) use deception to undermine decision-making by animals in order to better detect and control pest species and curtail their impacts using novel non-lethal techniques; (ii) develop a better understanding of the behavioural and physiological processes which allow alien species to exploit native fauna successfully, with the goal of developing methods to disrupt these processes; (iii) understand the potential bias in wildlife monitoring arising from differing animal personalities within a population; and (iv) investigate density-benefit relationships whereby aliens can perform beneficial ecosystem services.
Research publications
Naiveté in predator-prey
interactions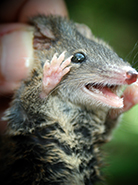 Alien predators have had acute and devastating impacts to our unique wildlife in Australia. Understanding how feral predators affect their prey is a critical conservation objective; not only to identify and protect prey species at risk but also to ensure efficient and targeted management of the problem. Our research focusses on understanding and explaining the role of naiveté in predator-prey interactions and the vulnerability of Australian mammals to alien species.
Research publications
Chemical communication and
signal exploitation in animals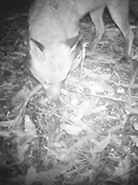 Signalling lies at the heart of behavioural and evolutionary ecology, being the primary means by which animals choose mates and socialise. Yet social signals are open to eavesdropping enemies, including predators which may use prey cues to improve their foraging. Research in our lab focuses on chemical signal exploitation in predator-prey interactions and using chemical camouflage to protect vulnerable species from alien predators. Our research aims to develop a new understanding about the exploitation of social signals by both predator and prey. In doing so we aim to generate new theory on the reactive foraging behaviour of predators and use this theory to solve conservation and agricultural problems.
Research publications
Urban ecology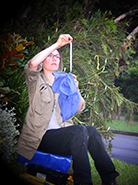 Urbanisation continues to increase at a rapid rate both threatening wildlife and increasing human-wildlife interactions. Research in our group focuses on (i) examining how native mammals are coping with encroaching urbanisation; and (ii) understanding the ecological drivers and role of urban wildlife in human-tick encounters; both with the aim to inform best practice management.
Research publications